Where talent + teamwork take centerstage
Our Values Make Hiring More Human
Creating a human connection is at the center of our best-in-class TRM. Our values – understand the why, raise the bar, don't trust comfortable, choose reality, and support cross-functional empathy – drive us to prioritize creating a positive experience over an automated one. As a result, interviews are more meaningful and candidates feel at home immediately. See how our values make hiring more human – especially as companies scale.
We Strive to Understand the Why
We don't take things at face value and dig deep to assess and understand all potential scenarios. We use research and data to make decisions with confidence.
We Raise the Bar
We're not satisfied with the status quo and constantly challenge ourselves to improve. We plan, track, and evaluate our performance to foster learning, development and autonomy.
We Don't Trust Comfortable
The only constant is change and we're ready for it. We'll walk into uncharted waters without hesitation and stay open to new ideas. "We've always done it this way" is not in our vocabulary.
We Choose Reality
We don't ignore our weaknesses and only focus on our strengths. It's critical to recognize failure as a chance to learn and grow. Feedback rooted in positive intent is a gift, and we continually seek it out.
We Champion Cross-functional Empathy
We perform at our best when we align cross-functionally. Our goals, strategies and tactics are driven by input and in collaboration with our team members, which is why Lever continues to be a leader in company culture and in the market.
How we got here
Lever started in 2012 with a clear vision — to connect human potential to meaningful work. See what we've done along the way.
Lever began. With founders Nate Smith, Brian Noguchi, Sarah Nahm, and Randal Truong at the helm, Lever started as an incubator company within Twitter.
Lever raises $2.8 million in a seed round led by SV Angel.
Lever raises $10 million in its Series A round led by Matrix Partners.
Lever reaches a diversity milestone, with minorities representing 49% of Lever's workforce, a metric we're committed to maintaining.
Lever Raises $50 Million in Series D Funding to better hiring experiences.
Lever Celebrates their 10th birthday.
Our leadership team
Meet the leadership team that keeps us inspired to seek our mission and live our values.
Nate Smith
Founder and CEO
Jessica Green
SVP, Customer Success
Keshila Shannon
SVP, Marketing
Tom Beecher
SVP, Engineering
Lori Ellsworth
SVP, Product
Awards and Recognition
Every accolade is a testament to our employees and culture, so of course we love celebrating our achievements.
See all awards
Come work with us
Working at Lever means that you'll be surrounded by colleagues who are constantly pushing boundaries, thinking two steps ahead of the curve, and meeting the high standards we set for ourselves.
See our openings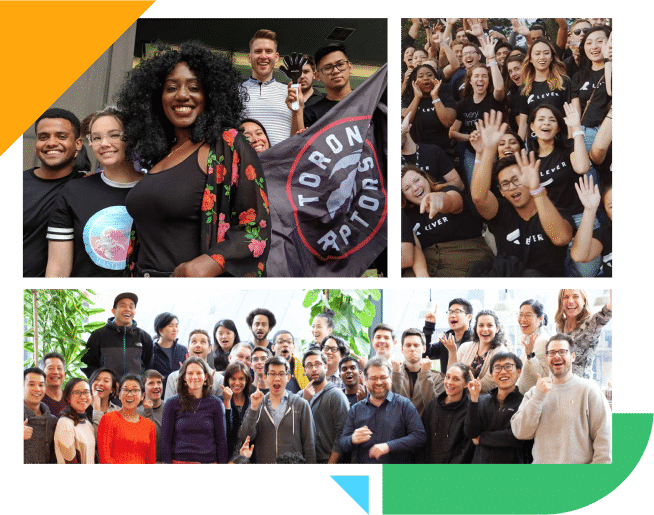 Our investors
We're proud to be backed by some of the world's leading investors.