The best software-as-a-service (SaaS) providers work tirelessly to build best-in-class products for their target audiences. In Lever's case, our aim is to build the premier recruitment and hiring solution for talent acquisition teams at companies of all kinds: from locally based small businesses to international enterprise organizations.
Thanks to our team's dedication and hard work, we've been fortunate to be recognized as one of the top solutions in categories including the TA tech space as well as the SaaS industry at large.
The latest instance of this acknowledgement of being a world-class tech provider comes from the 2022 SaaS Awards, in which Lever has been shortlisted in the recruiting tech category.
Lever shortlisted as one of the best recruitment software solutions by 2022 SaaS Awards
"SaaS continues to mature as a key driver for sustained improvement," according to the SaaS Awards' James Williams, the group's head of operations.
And the shortlisted nominees for this year's iteration of the awards certainly help our distinct target audiences and users improve in their respective work.
Lever is one of the finalists in the "Best SaaS Product for Recruitment" category, deeming us one of the top solutions of the year in the talent acquisition technology space.
[View all the 'leaders, innovators, and organizational transformers' who were nominated here.]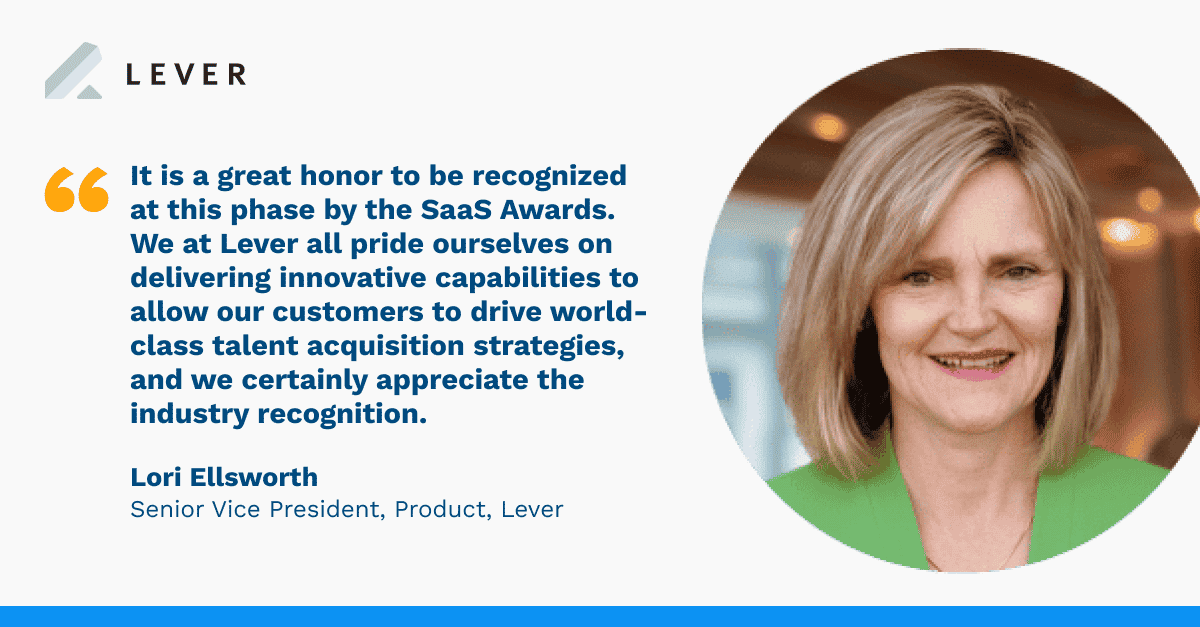 The SaaS Awards program highlights dozens of the cream-of-the-crop software platforms that address pain points and provide solutions for countless types of business professionals, including IT pros, supply chain managers, human resources, and many others.
The primary goal of these SaaS providers, including Lever? Create a renowned and revered tech offering that solves unique business challenges and, ultimately, leads to high customer satisfaction.
"It is a great honor to be recognized at this phase by the SaaS Awards," Lever Senior Vice President, Product Lori Ellsworth said. "We at Lever all pride ourselves on delivering innovative capabilities to allow our customers to drive world-class talent acquisition strategies, and we certainly appreciate the industry recognition."
Lever's goal: Ongoing excellence and innovation to aid our customers' data-driven recruiting
Bing recognized in this year's software awards program (and any year's software-as-a-service awards) is certainly something the entire Lever team is proud of, as it shows our collective work in developing and regularly enhancing our ATS + CRM is paying off.
That said, our focus remains on building a best-in-class talent acquisition suite that solves for the biggest CRM challenges facing talent leaders and their teams today:
From streamlining their recruitment funnel, to boosting their hiring speed, efficiency, and quality
"The recruiting industry has evolved and continues to evolve," Lori added.
"In a world where speed is everything for companies of all kinds, competitors fight for top talent, and organizations struggle to ensure who they hire is right for them. Having a trusted partner with an easy-to-use, configurable, and integrated talent acquisition system is a competitive advantage to winning in today's market."
Schedule a demo with the Lever team today to get insights into our native talent acquisition suite and learn why 5,000-plus companies have invested in our ATS + CRM solution.